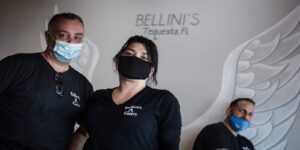 https://www.palmbeachpost.com/story/news/local/jupiter/2020/09/17/italian-restaurant-bellinis-now-open-u-s-1-tequesta/5821829002/
Lorraine and Pasquale Parente have a formula, one that's been tested at restaurants they've owned in New York.
It's not exactly rocket science, but Lorraine said it works.
"How we've done it for 30 years is: We treat people nice. We give them good food and they tell their friends, and they tell their friends," she said.
Since July, the Parentes been cultivating that same familial atmosphere at Bellini's Eatery, an intimate Italian restaurant that is open 11 a.m. to 9 p.m. Tuesday to Sunday at 241 S U.S. 1 in Tequesta.
Both have years of experience in the food business. They owned a few restaurants in New York and continue to own one upstate, near the Vermont border, Lorraine said.
"The way we entertain, the way we show people that we love them is by cooking for them," Lorraine said. "And when people come in here, we don't treat them like they're customers. We treat them like they're coming into my home."