Your Guide to Jupiter Beach, Florida
Top Jupiter Beach Landmarks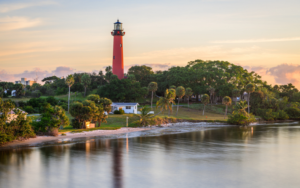 Jupiter Inlet Lighthouse & Museum
Built in 1860, the eye-catching red Jupiter Inlet light offers tours and educational experiences for adults and kids alike. Every Monday, you'll find yoga classes on the Lighthouse decks, one of the best ways to see the sunset in Jupiter Beach.
500 Captain Armours Wy,
Jupiter, FL 33469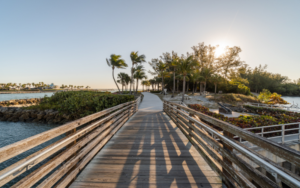 Spend an Afternoon at DuBois Park
This Florida favorite is located right at the Jupiter Inlet offering unobstructed views of the Jupiter Lighthouse. Visitors can kayak and canoe right from the shore, lounge in the sand or grass, grill in the picnic areas, and reel in their catch of the day. This family-friendly spot will give you and your little ones a day to remember.
19075 DuBois Rd,
Jupiter, Florida 33477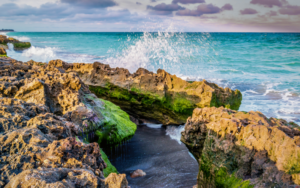 Blowing Rocks Preserve
A rare window into Florida's natural history opens at this jaw-dropping spot, where plumes of saltwater shoot up to 50 feet in the air during the rough seas of high tide. Take a close look at the Anastasia limestone (this is the largest stretch of it on the Atlantic coast); you'll see fossils, coral fragments, and shells.
574 S Beach Rd,
Hobe Sound, FL 33455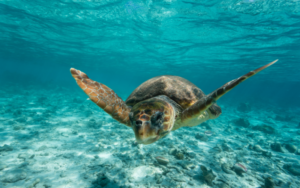 Visit Loggerhead Marinelife Center
Every year, this oceanfront facility cares for nearly 100 sea turtles and 1,000 hatchlings with a dedicated hospital team, just one part of Loggerhead Marlinelife Center's mission. Guided tours are the best way to learn about the rehabilitation, research, and conservation happening here.
14200 U.S. Highway 1
Juno Beach, Florida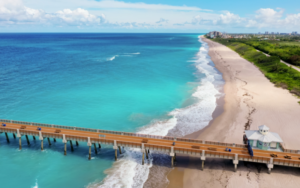 Juno Pier
The Juno Pier has 990 feet of ample space for saltwater fishing and gazing out at unparalleled ocean views. There's a full-service Pier House with a snack bar, gift shop (with fishing tackle, rental poles, and bait for sale!), and service team available to help answer any of your questions. Stick around for sunset at this local spot and be prepared to capture the golden hour magic on camera!
14775 U.S. Highway 1,
Juno Beach, Florida 33408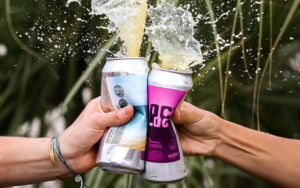 Civil Society Brewing
Peer closely at Civil Society Brewing's tanks, and you'll see a name, but not just any name—these are the family members who helped bring the operation into fruition. Street art and a glowing green sculpture of a hop make this a hip stop for a pint of "Sunshine State of Mind."
1200 Town Center Dr #101,
Jupiter, FL 33458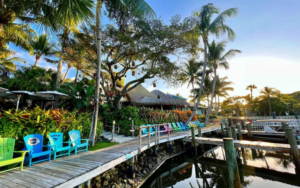 The Best Restaurants in Jupiter Beach
Beacon
We can all agree that the best part of any dining experience is the rush of excitement you get from seeing your food make its way to you, right? Well, at Beacon, you'll get an elevated version of that experience. Sitting in the center of this dinner-only restaurant, you'll find an open-concept kitchen where guests get to watch their meal as it's prepared from start to finish. With vegan, vegetarian, meat and seafood entrees, everyone can find something to enjoy here.
1107 Love St,
Jupiter, FL 33477
The Woods
A place for friends and family to gather and dine, The Woods offers sophisticated American cuisine from brunch and lunch, to happy hour and dinner, complete with drinks, dessert, and a unique selection of cigars. It's elevated sports bar atmosphere and creative menu will leave you feeling like a champion.
129 Soundings Ave,
Jupiter, FL 33477
Food Shack
Think beyond ordinary food shacks to an extraordinary Jupiter Beach restaurant serving some of Florida's freshest fish in a friendly, artistic environment. Be sure to order the signature dish of sweet-potato-crusted fish over salad, the most popular item on the menu.
103 US-1 D3,
Jupiter, FL 33477
Lucky Shuck
If you want nothing but the freshest catch of the day, you'll want to plan a visit to Lucky Shuck, where fishing boats come right up to the dock to weigh their catch. Their menu is decked out with all the seafood you could dream of including: a raw bar, poke bowls, handheld sandwiches, and a "Shucket Bucket" that features 6 Blue Point Oysters and 2 Heineken bottles – perfect for two, if you're willing to share!
1116 Love St,
Jupiter, FL 33477
U-Tiki Beach
If you've been daydreaming of sipping a Blue Paradise while watching the water and waiting for a perfectly crispy-and-golden dish, this is your spot. U-Tiki also serves plenty of salads, sushi, and burgers, making it an ideal Floridian gathering spot for everyone in your group.
1095 N Hwy A1A,
Jupiter, FL 33477
Guanabanas
Guanabanas is one of those places where you feel you could stay all day, thanks to the Caribbean vibe, the colorful cocktails, and the wide-ranging menu offering everything from clam chowder to Key lime pie. Linger to listen to live music on weekend nights.
960 N Hwy A1A,
Jupiter, FL 33477