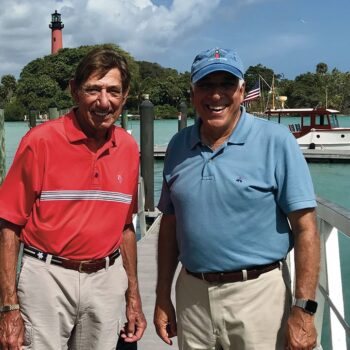 JUPITER, Fla. — Charlie & Joe's at Love Street has been quietly open for a few weeks now and locals who knew went. The destination is being billed as "The Heart of Jupiter" and has unobstructed views of the Jupiter Inlet Lighthouse.
Inside the venue are four destinations which include a rooftop tapas bar, two restaurants and a seafood market featuring catches from just offshore.
Fishermen have unloaded their hauls at this location for more than 150 years and the duo said it was important to make sure they still had a dock to sell their fresh catches.
"The Native Americans [were] fishing here in the same area, so this is a very historic area and the commercial activity of the fishermen to me is very important," said Modica.
Former New York Jets quarterback Joe Namath said he absolutely loves Jupiter for his Love Street project and wouldn't want it to be anywhere else.
"I love the blue skies as opposed to gray up north at this time of the year, especially. I started hating gray with the Oakland Raiders," laughed Namath.