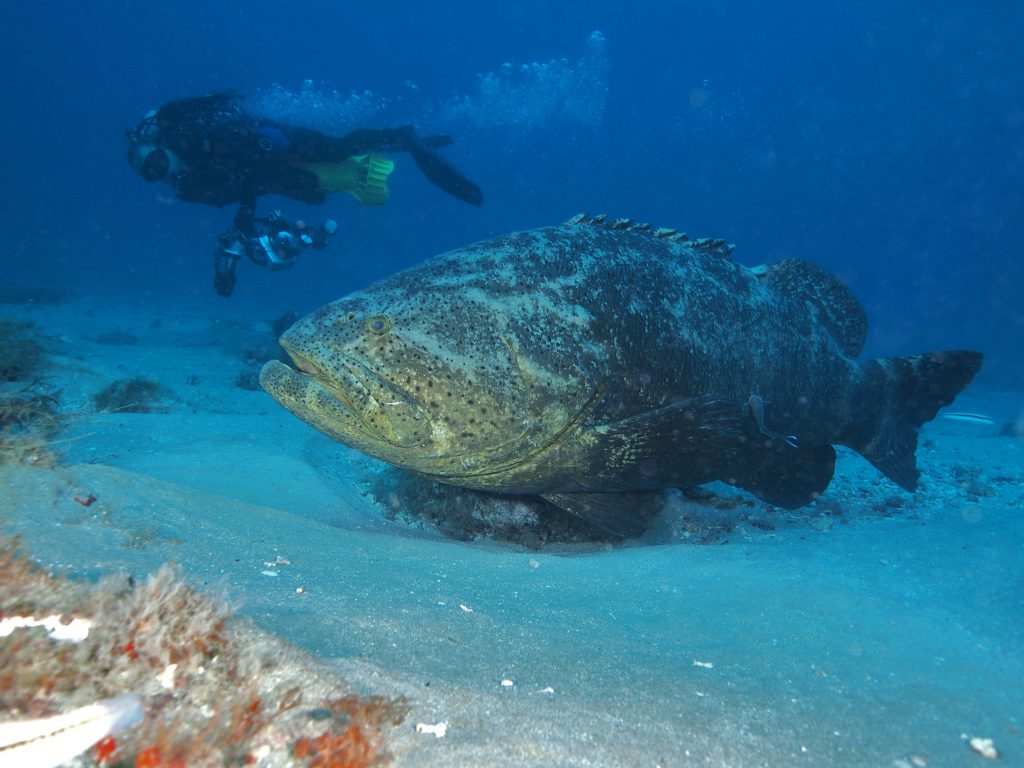 Goliath Grouper Specialty September 12th 
September 12
$279
Goliath Grouper Specialty 
Did you know that the waters off the Treasure Coast are the only known spawning site for goliath groupers along the Atlantic coast? Jupiter Dive Center is proud to offer an exclusive Goliath Grouper Specialty course where you will learn all about these amazing behemoths of the ocean. Let us introduce you to Gary the Goliath, our resident grouper!
The Fun Part
You hear them first—a distinctive bark that reverberates throughout your body. Then they come into view and you can hardly believe your eyes as you gaze upon an aggregation of goliath groupers. The offshore reefs of Jupiter, Florida host a year-round population of goliath groupers. In late summer, this protected species gathers to spawn. During peak season, you can expect to see sixty or more of these gentle giants congregated along the Jupiter Wreck Trek.
What to Expect
This course starts in the classroom, where students will learn about goliath grouper identification, habitat, range, diet, and role in the marine ecosystem. Following the presentation, the students will participate in two guided dives where divers will focus on putting their newfound knowledge to use. Divers who complete both the classroom and dives will receive a Goliath Grouper Specialty certification.
What Do You Need? 
All Jupiter Dive Center charters are drift dives and each diver must have their own surface marker buoy and a timing device. Enriched Air certification is recommended, but not required.
The Nitty-Gritty 
This course is available throughout the year.
Students meet at Jupiter Dive Center at 10:00 a.m.
Divers must present their scuba diving certification card at check-in
All divers must have a surface marker buoy and timing device
Cost is $279 per diver for materials, instruction, a 2-tank charter, and certification
Book now by calling (561) 745-7807 or click here!
Your Next Adventure
Once you complete this course, you may be interested in learning more about other marine animals such as sea turtles or sharks. Jupiter Dive Center also runs goliath grouper aggregation dives throughout the months of August and September. Choose between 2 or 3-tank charters!